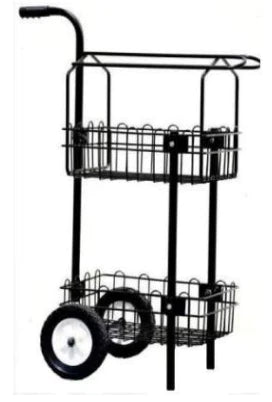 JPC Equestrian
TUFFRIDER 2 BASKET BARN/SHOW CART
2 Basket Barn/Show Cart
Offer you luxurious convenience
Smooth maneuverability
Finished in an elegant black
Luxury and practicality

Introducing the TuffRider 2 Basket Barn/Show Cart - the symbol of opulence in utility vehicles. As beautiful as it is functional, it is expertly crafted to offer you luxurious convenience while handling your equine duties. Two spacious basket compartments provide ample storage, easily accommodating all your barn accessories or show necessities. The cart's lightweight design ensures a pleasurable experience, offering smooth maneuverability through even the most bustling environments. Finished in an elegant black, it beautifully complements its surroundings. Choose TuffRider for a seamless blend of luxury and practicality.
---
Share this Product