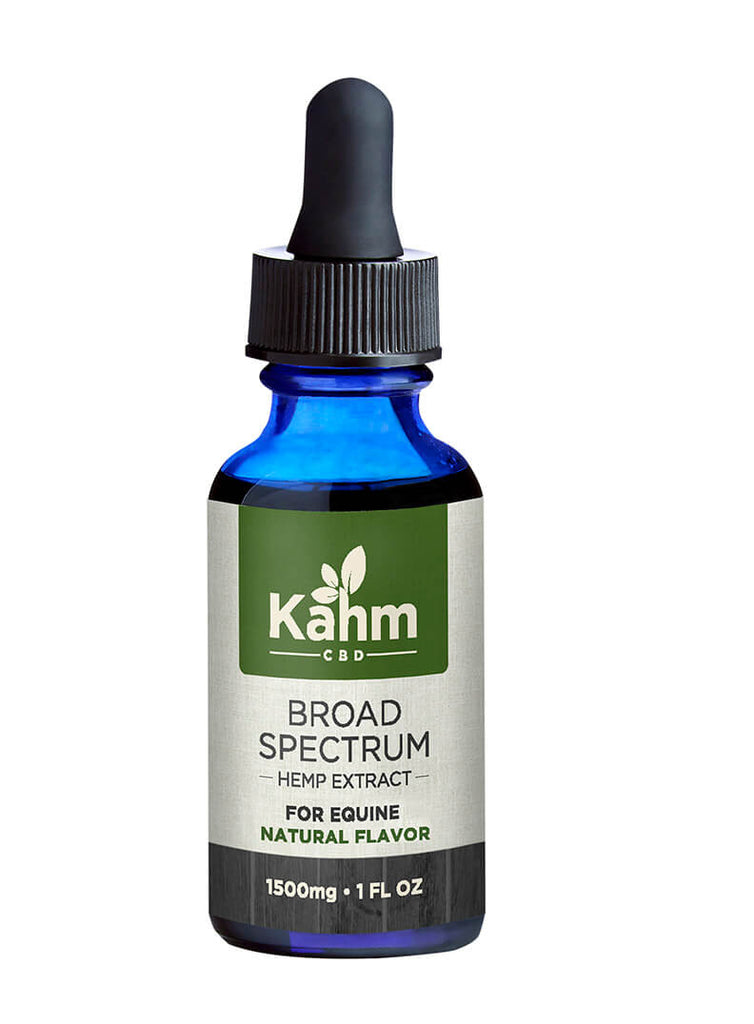 Kahm
CBD TINCTURE – FOR HORSES (1500MG)
Kahm CBD Oil for horses can be utilized for pre-competition or daily use based on your equine partners lifestyle. Just a quick serving in the bottom lip, will have your horse feeling their best!
Our broad-spectrum CBD tinctures are made from the highest quality, organically grown, broad-spectrum hemp extract with naturally occurring CBD and are diluted with hemp seed oil. We only use CBD extracted from U.S. grown hemp and use third party labs to test for consistency and content.
Our tinctures contain no detectable amounts of THC.
Directions for Use:
1 dropper is equal to approximately 50 mg CBD
The suggested servings for horses is 1 – 2 full droppers per day. Note, our tinctures absorb sublingually so they needs to be given under the tongue, or in the horse's bottom lip to absorb into the bloodstream properly.
Horse Maintenance Dose: 1 – 2 full droppers daily as needed.
Horse Pre-Race Dose: 1 – 2 full droppers 1-2 hours prior to competition.
Recommended for Support:
Managing Normal Stress
Promoting a Calming Effect
Maintaining Normal and Balanced Behavior
Maintain a normal Inflammatory Response
Active Ingredients Per Serving (1 dropper):
Broad-Spectrum Hemp Extract (with naturally occurring CBD)………..50mg
Inactive Ingredients: (Peppermint)
Hemp seed oil, Peppermint Oil, Stevia
Inactive Ingredients: (Natural)
Hemp seed oil
Servings Per Container: 30
Each animal reacts differently; we suggest starting below the recommended dosage and increasing until you see the desired results.
Keep at room temperature to preserve freshness. Store away from humidity, heat, and light. Do not refrigerate.
*Not all associations permit the use of CBD in horses for show. Please consult with your individual association before using this product.
**This product does not ship to California**
---
Share this Product